Cosun and Oost NL team up to jointly invest €8M in Wageningen-based foodtech scale-up revyve to boost the development of sustainable, upcycled and local food ingredients, derived from co- products of beer breweries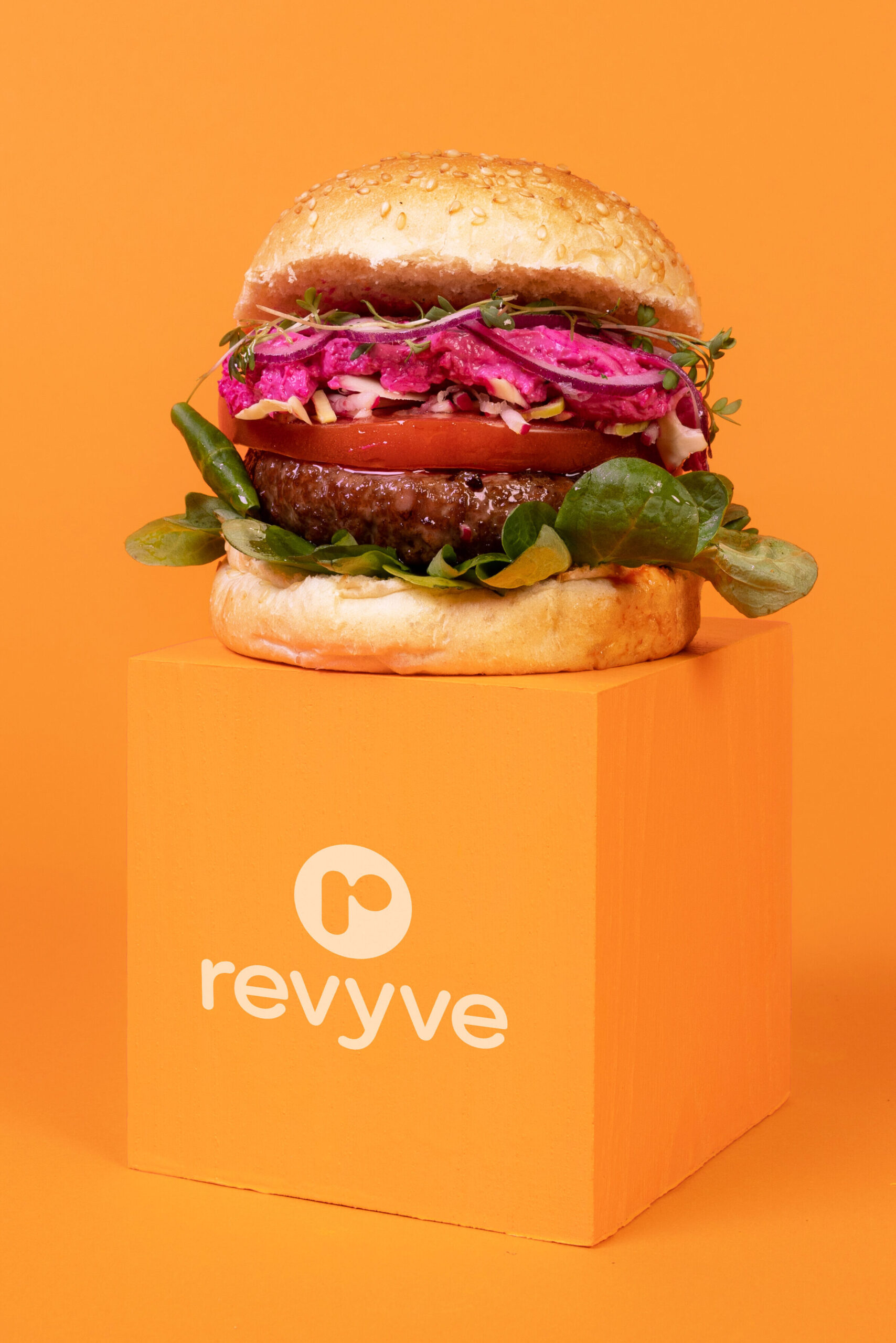 Upcycled ingredients
Wageningen-based food-tech scale-up revyve uses patented technology to extract protein and fibre ingredients from brewer's yeast. These upcycled food ingredients, with low CO2 footprint, are highly functional and ideally suited to replace animal proteins and E numbers like methylcellulose and egg white. Revyve's ingredients are highly versatile and can be used in different food applications such as meat analogues, fried snacks, pasta, sauces and bakery products. Revyve is currently working to scale up production to over 100 ton per year in order to enable multiple commercial launches with its customers. "Until now, food manufacturers needed to rely on animal-based ingredients and E numbers to create texture. At revyve we have developed a unique process to produce highly functional ingredients from brewer's yeast. Our ingredients have great gelling, emulsification and foaming functionality which provides a sustainable, clean label and delicious alternative to unlock amazing texture. We are proud of this new partnership with Oost NL and Cosun Protein and excited to contribute to a better and more sustainable food system." says Cedric Verstraeten, CEO of revyve.
Strategic collaboration
Revyve's upcycled ingredients contribute to reducing the CO2 footprint from food and offer more clean label solutions for food producers. This closely aligns with Cosun's Unlock25 strategy focused around green & health promoting ingredients, upcycling co-products and building a future-proof sustainable chain. Thijs Bosch, Director Cosun Protein: "This investment is fully in line with Cosun's sustainability agenda and our ambitions for alternative protein. We look forward to deepening our collaboration with revyve through our knowledge and expertise as a producer of plant-based protein and other functional ingredients to create sustainable food ingredients for future generations."

Wageningen food-ecosystem
Oost NL invests from Perspectieffonds Gelderland (PFG), a fund focused on necessary transitions for a sustainable future. Oscar Elderink, investment manager of Perspectieffonds Gelderland at Oost NL recognizes the potential positive impact of revyve's innovative technology and emphasizes the important role of Wageningen University & Research and its surrounding ecosystem play in food innovations. "The Wageningen ecosystem is an important hub for food innovation towards a sustainable and healthy food system. We are proud that with our investment, revyve can take steps towards the development of sustainable and local food ingredients. We believe that revyve's product can have a significant impact on creating a circular food chain and facilitating the transition to protein alternatives," explains Elderink.
About revyve
Revyve uses natural micro-organisms to produce animal-free food ingredients and has developed a proprietary mild and scalable process to recover unique compounds from microbial biomass such as brewer's spent yeast. For more information, visit https://revyve.bio
About Oost NL
Oost NL is the development agency of East Netherlands. Oost NL works from a social mission: to contribute to the necessary transitions for a sustainable and healthy future. We do this by working together with partners to strengthen those innovation themes in which entrepreneurial East Netherlands is powerful: food, health, tech, energy, and circular. We support innovative companies in their development, invest in them with public funds, and connect the region with national and international players, We are committed to social and economic impact. Oost NL commissioned by the Ministry of Economic Affairs and Climate, the province of Gelderland, and the province of Overijssel, for more information visit http://www.oostnl.com
About Perspectieffonds Gelderland
Perspectieffonds Gelderland (PFG), a fund of the province of Gelderland, takes on social challenges in the areas of energy transition, climate adaptation, circular economy, biodiversity, accessibility and economic and living climate. Due to the complexity of these transitions, the market is hesitant to take on and develop new ideas into business cases. Oost NL is fund and program manager of PFG, and applies prioritization to initiatives and projects that may qualify for consortium formation, integrated program development and earmarked funding. With the long-term integrated approach of Perspectieffonds Gelderland, Oost NL, together with its partners we work towards a healthy, safe, clean and prosperous Gelderland.
About Cosun Protein
Cosun Protein – part of Royal Cosun – is committed to enable the creation of a new generation of plant-based foods. A generation with great taste and natural label which are produced locally and sustainably. Cosun Protein creates great tasting, highly soluble plant proteins based on fava beans (Tendra®), ideally suited to a broad range of food and beverage applications. For more information, visit http://wwwcosunprotein.com
About Royal Cosun
Royal Cosun is a leading international cooperative and agri-food company, owned by 8.400 farmers, that has created high-quality plant- based products since 1899. Together with its partners, Cosun unlocks the full potential of plants to create smart sustainable solutions for current and future generations, such as plant-based foods and ingredients, biobased non-food applications and sustainable energy. In doing so, Cosun helps to mitigate the effects of climate change and stimulates a sustainable lifestyle. The business groups Aviko, Cosun Beet Company, Cosun Protein, Cosun Biobased, Duynie Group, Sensus and SVZ are part of Royal Cosun. In 2023, around 4,500 employees worked on the development and production of plant-based solutions, resulting in a combined annual turnover of €3 billion. For more information, visit http://www.cosun.com
For more information please contact
Revyve | cedric@revyve.bio
Oost NL | danielle.gijsbertse@oostnl.nl
Royal Cosun | corporate.communication@cosun.com